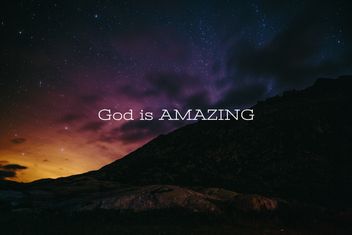 Do you wake up in the morning with a list of 'things to do' buzzing in your head? Aware of all the pressures of daily living? Are you affected (perhaps despondent) by all the bad news and tensions reported by the media? Do you feel burdened? Unable to cope?
Then stop.
And take in the truth that 'GOD IS AMAZING!'
There is no-one like Him. He's utterly good and just and gracious. Full of truth - no 'fake news'!! Faithful, kind and forgiving.
These are not simplistic sentences to make us feel ok. This is the amazing reality of the gospel - that Jesus Christ came to make God known (John chapter 1) and that He's at God's right hand praying for you and me and the needs of the whole world.
Of course we recognise there is evil in this world and we need to help those in desperate situations, but we should not be crushed by it.
The truth of Easter is that Jesus overcame evil and the power of death and will come to restore all things for good.
Meanwhile the challenge is to help the hungry and destitute.
To 'remember those in prison, as if you were there yourself.
To remember those being mistreated, as if you felt their pain'
To take the focus off money and the love of it because God has said;
"I will never will never fail you. I will never abandon you." ( Hebrews 13)
May we be refreshed- invigorated - as we realise anew that 
GOD IS AMAZING.
// Margi