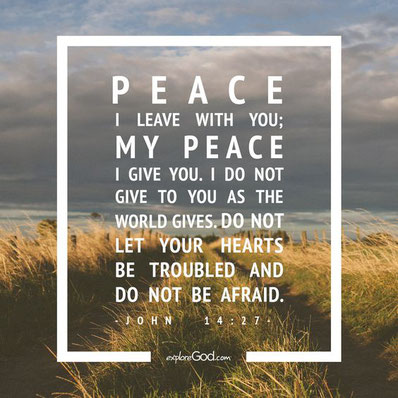 Jesus' words recorded in John's gospel Ch.14: verse 27 are these: 'I am leaving you with a gift – peace of heart and mind. And the peace I give you is a gift that the world cannot give. So don't be troubled or afraid.' He was speaking to his disciples before the events of his crucifixion. How can these words help us? We live in 2016 in a world in turmoil and with our own personal disturbances. I have found peace a reality as I tell God what is going on in my personal circumstances and then, as Paul writes in Colossians 3: 'LET the peace that comes from Christ rule in your hearts.' This year has been a cancer journey and I am experiencing God's peace in a tangible way. Not denying Ted's diagnosis, not putting a 'brave face on' or trying to be a 'victorious Christian', but simply coming – in the middle of the night if I can't sleep – and LETTING God's peace rule those unhelpful 'what if ' thoughts and finding help and calm.
We have God's spirit to bring the reality of His love and truth into our experience. What a privilege! 
Let's live in that vital relationship with Him!